We offer Beginner, intermediate and advanced classes in the following:

Acoustic and electric guitar, bass, keyboards,

drums, sax, violin, flute, vocals and more for

any style of music. We have a knowledgeable teaching staff

and a friendly musical environment in

which to learn, as well as a viewing area

from which visitors can observe classes.

Class options:

Half-hour once a week

One-on-one private lessons

Monthly Student recitals

Pay-as-you-go plan

No long term commitments

~ Se habla espanol ~

Hours:

Monday thru Friday---3PM to 8PM

Saturday---9AM to 6PM

REPAIRS--SUPPLIES--EQUIPMENT

DJ'S AND SOUND ENGINEERS AVAILABLE

Questions Welcome

718-792-9716t

.

Just Nuts Store

& Music School

Supplies, lessons and repairs of all instruments!

(across from Throgg's Neck Clipper Restaurant)

718-792-9716

3602 Tremont Ave

Bronx, New York 10465

646-261-0170 Vic

646-331-9707 Mark

917-833-3374 Al

JUST NUTS STORE & MUSIC SCHOOL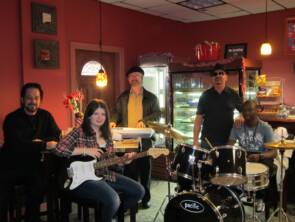 Liz Roche won--Fender Squire Guitar

Delvin Sweeny-Drums & Jaden Adorn,won Keyboards